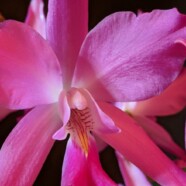 At our next monthly meeting, we are excited to welcome Peter Lin of Diamond Orchids presenting a talk on one of his favorite topics: Mini-Catts, also known as Miniature Cattleyas.  Peter will be sharing a fast-paced presentation on these charming orchids.  The journey will begin with a review of the miniature species, early hybrids, and then to some of the relevant hybrids of today.  He will also review how to grow these wonderful plants.
Peter has won over 180 AOS awards and is an accredited judge. He will be bringing plants for sale.  If you pre-order plants, Peter offers a 10% discount!  PRE-ORDERS MUST BE SENT TO PETER BY AUGUST 5th!
CLICK HERE FOR HIS WEBSITE & PLANT LISTS.
Guests are always welcome at the monthly meetings of the TOS, though we do ask you to pay dues (only $25 per year!) if you make a habit of it.
A very special thanks to our GOLD speaker series sponsors for this month: