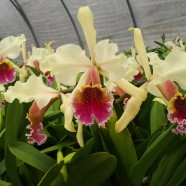 Ever wonder how some growers seem to have all the "luck" with their cattleyas getting awards every time you turn around?  Well, the fact is, it is not so much "luck" as it is skill in knowing how to grow those plants, how to prepare the plants and blooms ahead of time and initial selection of the plants to grow for possible awards.
Awards can be had on the society show table, an orchid show where hundreds of people will view your plants, or even with the AOS judging system.  Some more reclusive growers just enjoy the blooms for their own pleasure and satisfaction which is more satisfying if the blooms are at award quality.  Then there is the great satisfaction of recording a pristine, award quality bloom in a photograph that you can lust after and share for years to come.
This talk will cover all these basics and many other cardinal rules to growing award winning cattleyas.
---
---
About Keith:
Keith Davis was born in California but moved to Mexico with his missionary parents when eight years old. In 1974 he attended North Carolina State University where he obtained degrees in forestry, horticulture and agricultural education. After school, he moved to Corpus Christi, Texas where he taught horticulture and purchased his first orchid at a yard sale. It was Lc. Molly Tyler FCC which he still has to this day. After moving to Reidsville in 1984, Keith worked for North Carolina State University as the grounds and greenhouse superintendent at Chinqua-Penn Plantation and taught high school. In 1997, he and his wife Dixie adopted their only child, April. Keith then became a full-time stay-at-home dad but also continued part-time with Chinqua-Penn. In August of 2002, a disaster struck his orchid collection when the power went off at the greenhouse he was leasing. The temperature soared to over 140 degrees and about 90% of his large collection of mainly cattleya alliance orchids was lost. Thanks to many friends and the generosity of orchid growers all over, he is well on his way back to having a respectable collection again.