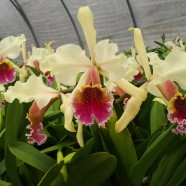 Saturday at 2:30pm:
November 11th, 2017
'Growing Orchids in Cypress Mix'
Steve Arthur
Talk Summary:
Steve of Steve Arthur Orchids uses shredded cypress bark mixed with perlite to grow his orchids. He reports that the mix is long lasting, requires less fertilizer, is low cost, and widely available. He'll talk about how to vary the mix to grow different types of orchids, and produce pseudobulbs that are bigger, plump up faster, and have multiple leads each year.
Speaker Bio:
Steve is a scientist who worked for the Medical College of Georgia in Augusta and with the Dept. of Veteran's Affairs for thirteen years doing research on animal tissue culture. For eight years, he taught middle school science in a private Catholic school in Augusta. He has two grown daughters.
Steve began growing orchids over thirty years ago. His current greenhouse in Graniteville, SC, where he and his wife now live, covers about 5,000 square feet of growing area. He grows a "mish-mash" of things but tends to focus on Cattleyas and has been making crosses for years. In his greenhouse lab, he also does contract work (such as sowing and harvesting seeds) for other nurseries. Steve is affiliated with Carter & Holmes, frequently selling plants for them at the big Florida shows, and is currently their Lab Manager.
He is also an accredited AOS Judge, and once a month, Steve drives to and from Graniteville to Greensboro to attend judging. If you visit Steve's business, you enter his greenhouse via a large meeting room where his local orchid society meets and where he conducts classes on growing orchids. This meeting room is also home to sixteen birds— mostly Macaws but also Yellow Winged Parrots and Quaker Parrots. He purchased each of the birds while at orchid shows.
---
---
Sunday at 2:30pm:
November 12, 2017
'Down Sizing (Miniaturizing) Vandas'
Peter Breed
Talk Summary:
Peter Breed will introduce us to some of the amazing miniature vandaceous hybrids they've created at Orchid Classics.  Their primary goal is creating new and smaller inter-generic vandaceous hybrids using Neofinetia and other miniature species.
They are trying to downsize the larger vandaceous plants while encouraging the same full round flower shape, to create windowsill size plants that everyone can enjoy.  Their motto is "everyone has a windowsill but not everyone has a greenhouse!"  Peter's talk will include basic culture and growing instructions for vandas of all shapes and sizes, including the ones Orchid Classics will be selling on their vendor table!
Speaker Bio:
Peter was born in the Netherlands and grew up in the flowerbulb fields. His family have been in the flower business for 3 generations and currently have the largest bulb collection in the world! He went to horticulture school Rijnsburg and graduated in 1984. He then graduated on to a 4 year horticulture degree from Tuinbouwschool Lisse.
He then moved to Raleigh, NC to join as faculty at NC State University and conduct a research project on the use of flower bulbs. He became employed by George and Linda Kaufman in 1989 to run their gardens and greenhouse and are still employed there! Peter became more interested in orchids over time and joined Dr. David McDaniel to build Orchid Classics. He lives in Norfolk and is married and has two sons.
---
---
Monday at 7:30pm:
November 12th, 2017
'Compact and Miniature Cattleyas'
Mark Reinke
Talk Summary:
Mark will be the speaker at our normal meeting the night after the show.  Though we missed this talk back in September due to a hurricane rolling through, we were lucky enough to get Mark back this month!  He will be introducing us to some of the lovely smaller cattleya hybrids available these days.  These are extremely popular orchids – beautiful, colorful, and fragrant… yet small enough that even those with limited growing space can enjoy them.  Mark will also be selling plants!
Speaker Bio:
Mark Reinke had a passion for plants from the time he was a child growing up in a small town outside of Chicago.  When his family moved to Florida in the 1960's, he got his first orchid plants as back bulbs while helping out a neighborhood lady who had a large orchid and bromeliad collection.  Since then, orchids have always been one of his major interests.
In 2004, he and his partner Gary Collier sold their business in Atlanta and moved to the Blue Ridge Escarpment of South Carolina to grow plants full time under the business name Marble Branch Farms.  They constructed a large greenhouse and seed laboratory so they could focus on creating new orchid hybrids, concentrating especially on miniature and compact cattleya types, with and emphasis on new and unusual breeding lines.  They now have a thriving online business and are challenged to produce plants quickly enough to keep up with demand.  In addition to orchids, Marble Branch Farms currently raises hybrid daylilies and carnivorous plants, and produces honey.  Mark is active in the Western North Carolina Orchid Society and has served as President of the Atlanta Orchid Society twice.