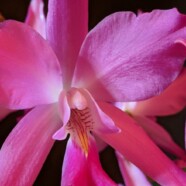 Do you grow Cattleyas? Come meet the expert! Art will be giving a talk about "Large-Flowered Cattleya Species," giving an introduction to these big beauties, as well as how to properly grow them.
Art Chadwick has the distinction of naming his Cattleya hybrids after the wives of the last six U.S. Presidents and personally presenting the flowers to most of the honored recipients. He has spoken at two World Orchid Conferences – France 2005, Ecuador 2017 and his popular orchid advice column appeared each month in many newspapers around the country for 20 years. The book 'The Classic Cattleyas' is widely considered to be the definitive book on large-flowered Cattleya species and was written by Art and his father. Martha Stewart favorably reviewed the now-sold out book and had both Chadwicks on her TV Show. A 2nd edition has since been released.
The meeting begins at 7:30pm, and is located inside the Ruby McSwain Education Center at JC Raulston Arboretum, a part of NC State University. Free & open to the public – visitors are welcome.