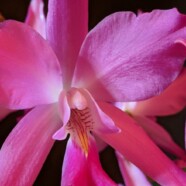 "Bulbophyllums"
Anyone who grows Bulbophyllums knows that Bill Thoms literally wrote the book on growing award-winning orchids from this often overlooked family. Come to our June meeting to learn all about growing the most weird and wonderful of all the orchid families!
The two best things about Bulbophyllums, for those of you who grow at home, is they don't need too much light & they are very hard to over-water!
---
If you're interested in sponsoring this or another talk, please contact triangleorchidsociety@gmail.com.
---
Remember to bring your blooming treasures to share on our greenhouse and non-greenhouse show tables.

Guests are always welcome at the monthly meetings of the TOS, though we do ask you to pay dues (only $25 per year!) if you make a habit of it.