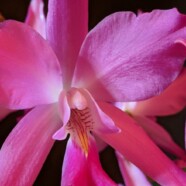 "Angraecoids – Growing and Conservation"
Brenda Oviatt of Botanica, Ltd. will be joining us in November to talk about growing and conservation of Angraecoids. These orchids can be a little temperamental, so finding the right one for your growing conditions is the key to success.
Brenda and her husband Bill Nerison began growing orchids in 1983 and over time their hobby has evolved into a two-part business. One half of the business involves growing and selling orchids (primarily species) to other interested growers. The other half of the business is focused on the ex-situ propagation of endangered Angraecoids and the education of hobbyists and growers concerned with the plight of many species of plants and animals from Africa and Madagascar.
Remember to bring your blooming treasures to share on our greenhouse and non-greenhouse show tables.

Brenda will be bringing orchids for sale! Also, she will accept PRE-ORDERS up until November 6th!
Guests are always welcome at the monthly meetings of the TOS, though we do ask you to pay dues (only $25 per year!) if you make a habit of it.
Special thanks to the GOLD Speaker Sponsors for this month:
Sarah Patterson
Dr. Harry Gallis