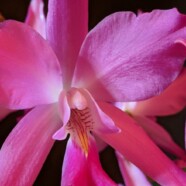 "Kaleidoscope – Breeding with Cattleya Horace"
Ron Midgett is an accomplished orchid hybridizer and commercial grower of almost 30 years. He has been recognized for the exceptional quality of his articles on any number of topics, and his green Cattleya talk was recently featured in an AOS webinar. He's an accredited AOS judge in the Rocky Mountain Region and the owner of New Earth Orchids (https://newearthorchids.com) in Sana Fe, NM.
We're pleased he will be joining us at our March membership meeting to present his newest talk, 'Kaleidoscope: Breeding with Cattleya Horace.' This promises to be an exciting look at the variety found in C. Horace's 278 registered direct descendants.
Ron will be selling plants and is offering pre-sale discounts to society members.
Prepaid Pre-orders get 15% off! (Use coupon code TOS318)
Pre-orders paid at the meeting get 10% off
Deadline for pre-ordering is March 8th
Select 'in person pickup' for delivery option. Discounts not available for shipped orders.
---
If you're interested in sponsoring this or another talk, please contact triangleorchidsociety@gmail.com.
---
Remember to bring your blooming treasures to share on our greenhouse and non-greenhouse show tables.

Guests are always welcome at the monthly meetings of the TOS, though we do ask you to pay dues (only $25 per year!) if you make a habit of it.