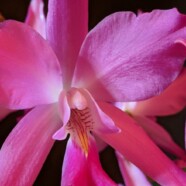 Multifloral Paphiopedilum and Their Culture
---
We have an exciting guest for all of those Paph lovers out there!  Sam Tsui of the Orchid Inn will be presenting a talk on multifloral paph culture and care at our September meeting.  Come learn how to grow these elegant hybrids and species!
Sam Tsui is a regular speaker at the Paphiopedilum Guild and a winner of over 250 awards, including seven breeder Award of Quality awards.  He is a regular judge at the Japan Grand Prix, the world's largest orchid show.
Sam will be bringing orchids for sale.  You can pre-order from Orchid Inn to pick up at our September meeting for 10% off (except divisions and packages).  To take advantage of this discount, please email him directly with your order. To make sure your plants are packed for the correct society, be sure to mention Triangle Orchid Society in your message.
Email contact: samtsui@orchidinnusa.com
Website to see plants available: http://www.orchidinnusa.com/index.jsp