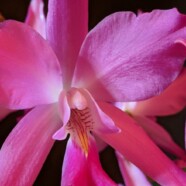 "Modern Phalaenopsis Hybrids"
The TOS is happy to welcome Lester Poole, President of the Catawba Valley Orchid Society, to our November membership meeting. He'll be giving his talk on modern trends in standard Phalaenopsis breeding as well as the best culture and care for the orchid your collection is most likely to start with.
We'll be planning a silent auction and blooming orchid raffle since the speaker won't be selling plants.
---
Remember to bring your blooming treasures to share on our greenhouse and non-greenhouse show tables.

Guests are always welcome at the monthly meetings of the TOS, though we do ask you to pay dues (only $25 per year!) if you make a habit of it.
If you're interested in sponsoring this or another talk, please contact triangleorchidsociety@gmail.com.
---