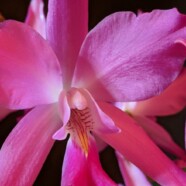 "The Journey of a Seed Pod"
Come out to our March meeting to meet Bridget Uzar, of Carter & Holmes Orchids, as she shares her talk on the journey of an orchid seed pod from pollination to bloom. This talk is designed so the casual orchid collector can learn the secrets of how their favorite plants make it to their benches, and expert growers can catch up on the latest techniques for lab propagation & meristeming.
Bridget will be bringing plants for sale. Carter & Holmes specializes in unique standard Cattleya hybrids, but they always have an interesting selection of related genera and smaller growing hybrids for those growing under lights.
---
Remember to bring your blooming treasures to share on our greenhouse and non-greenhouse show tables.

Guests are always welcome at the monthly meetings of the TOS, though we do ask you to pay dues (only $25 per year!) if you make a habit of it.
If you're interested in sponsoring this or another talk, please contact triangleorchidsociety@gmail.com.
---