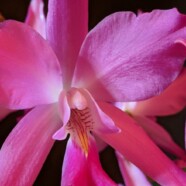 "Orchids of Mexico"
Our first speaker of 2019 is Steve Frowine, a world-renowned speaker and expert on orchids and ornamental gardening of all stripes. Steve has a long list of accomplishments, but you might recognize him as the author of 'Orchids for Dummies,' a must-have reference for the beginner and intermediate grower.
Steve will share his talk on Mexico, which is home to more than 1200 orchid species, many of which are not commonly grown by US orchid fanciers, even though they much deserve to be. This illustrated talk will feature those that are most spectacular and easiest to grow including Laelias, Encyclias, Prosthecheas, Oncidiums, Epidendrums, Maxillarias, Stanhopeas, and Lycastes. He will share his tips on how to grow these orchids to perfection.
If you're interested in sponsoring Steve's talk, please contact triangleorchidsociety@gmail.com.
Remember to bring your blooming treasures to share on our greenhouse and non-greenhouse show tables.

Guests are always welcome at the monthly meetings of the TOS, though we do ask you to pay dues (only $25 per year!) if you make a habit of it.