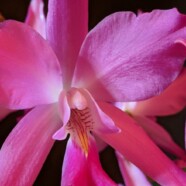 "Complex Paphiopedilum Hybrids"
Please join us for our October membership meeting as we welcome Hadley Cash, world renowned North Carolina hybridizer and grower of Paphiopedilums (also known as Lady Slipppers). Mr. Cash is the owner of Marriott Orchids just West of Greensboro, and a recipient of multiple FCC/AOS awards, including the 2004 Merritt W. Huntington Award for best FCC of the year.
You can check out his plant list and extensive photo gallery at https://marriottorchids.com/. He will be bringing plants for sale.
---
If you're interested in sponsoring this or another talk, please contact triangleorchidsociety@gmail.com.
---
Remember to bring your blooming treasures to share on our greenhouse and non-greenhouse show tables.

Guests are always welcome at the monthly meetings of the TOS, though we do ask you to pay dues (only $25 per year!) if you make a habit of it.