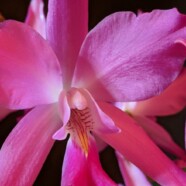 "The Wonderful World of Stanhopeinae"
October brings the return of one of our favorite speakers, Guillermo Salazar, who will be speaking on growing Stanhopeinae of all types. This group of orchids has some of the most exotic and striking flowers you can add to your collection.
Guillermo has won several AOS awards, including a couple of Certificates of Cultural Merit (Phal. cornu-cervi with 20 inflorescences!) that must have been pretty spectacular.
Guillermo will be bringing orchids for sale!
Guests are always welcome at the monthly meetings of the TOS, though we do ask you to pay dues (only $25 per year!) if you make a habit of it.
Special thanks to the GOLD Speaker Sponsors for this month: