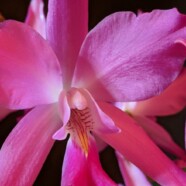 "Novelty Phalaenopsis Hybrids & Culture"
February's talk will be on novelty Phalaenopsis hybrids, culture, and care from Ben Belton, a local expert grower. Anyone who has ever toured the Orchid Trail might have seen his extensive collection of these desirable, but finicky orchids.
We'll also have a silent auction of the remaining holiday auction plants, including a variety of species and hybrids. There will also be some interesting orchid books for auction.
---
If you're interested in sponsoring this or another talk, please contact triangleorchidsociety@gmail.com.
---
Remember to bring your blooming treasures to share on our greenhouse and non-greenhouse show tables.

Guests are always welcome at the monthly meetings of the TOS, though we do ask you to pay dues (only $25 per year!) if you make a habit of it.