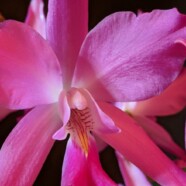 "Rupicolous Laelias"
Join us in September as we welcome well-known Brazilian orchid grower Francisco Miranda, owner of Miranda Orchids and grower of some of the most eye-catching Bifoliate Cattleyas and Rupicolous Laelias species on the market today. Come learn how to grow a wide variety of Cattleyas and Laelias native to Brazil, and get a chance to buy some cutting edge species breeding from Brazil.
Check out his website for plants for sale!
Francisco will have plants for sale at the meeting. If you wish, you can pre-order plants for a 10% discount for pickup at the meeting. To take advantage of this discount, do not order on the website – instead, email your order directly to him at fmiranda8@tampabay.rr.com and don't forget to mention Triangle Orchid Society. Be sure to send him your order by September 4th.
---
If you're interested in sponsoring this or another talk, please contact triangleorchidsociety@gmail.com.
---
Remember to bring your blooming treasures to share on our greenhouse and non-greenhouse show tables.

Guests are always welcome at the monthly meetings of the TOS, though we do ask you to pay dues (only $25 per year!) if you make a habit of it.