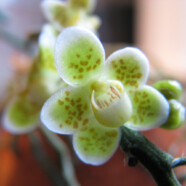 As members of our organization – YOU are the TOS!
There are many opportunities throughout the year for you to volunteer, and take part in making our society great. If each of our members would consider signing up for just one volunteer job, it would help immensely!
For those who don't have much time to offer outside of our regular meetings, consider:
…helping with the welcome table, raffle, or any of the other small tasks at a monthly meeting
For those who have the time, consider:
…helping with a TOS event: such as our auctions or orchid show. There are all sorts of tasks to fill, and you don't need to have done the event before or even have a lot of orchid knowledge!
All of these activities are especially enjoyable when you sign up with a friend. Look at your calendar, and see what TOS events might fit into your schedule. Email us, or talk to any officer/board member at the next meeting and ask how you can participate!
If you have ANY questions at all about volunteering, contact the TOS at info@triangleorchidsociety.org.