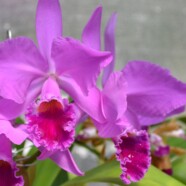 The Carolinas Judging Center of the American Orchid Society meets at Daniel Stowe Botanical Gardens outside of Charlotte, NC. Click here to learn more about judging and how to exhibit your plants!
The address for Daniel Stowe Botanical Gardens is:
6500 S New Hope Road, Belmont, NC 28012
The judging center meets in the Meadowview Room, which is attached to the Administration Building (not at the Main Visitor Center). This is on the road leading into the gardens – on the right, just before you pass a couple ponds on each side of the road.